21 March, 2023
Through DokuFest's collaborative projects, we witnessed Kosova be put in the spotlight in not one, but two renowned film festivals, this past month. First in Switzerland, at one of the most important events dedicated to cinema and human rights, the FIFDH International Film Festival and most recently in Canada at the REGARD – Saguenay International Short Film Festival with a special programme curated by Samir Karahoda called 'DokuFest: New Kosovo Voices'.
At FIFDH, six films produced in Prizren by leading Swiss film academies' through a film campus hosted by DokuFest, mentored by filmmaker Kaltrina Krasniqi and producer Eroll Bilibani were featured in a special screening called 'Kosovo in the Spotlight'. The films were described to be an "artistic and humane immersion in the reality of a young and dynamic country".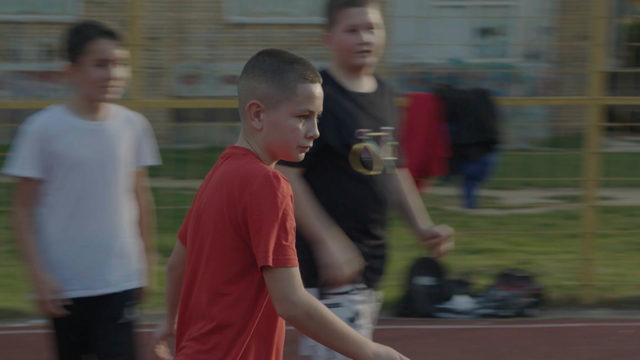 At REGARD – Saguenay International Short Film Festival, the audiences will have the opportunity to see six short films made by Kosovar filmmakers, through a program curated by director, and programmer at DokuFest, Samir Karahoda. The six films are part of a special thematic program of the festival titled 'DokuFest: New Kosovo Voices'.
The program consists of two short films which were made through DokuFest's flagship film school 'Future is Here' whose aim is to bring young peoples' voices forward, and four by Kosovar directors which have turned heads both regionally and internationally with their artistry (see list below):
- Prishtinë, 2002 (2022), directed by Trëndelinë Halili
- Time (2021), directed by Endri Maloku
- Four Pills at Night (2021), directed by Leart Rama
- Fence (2018), directed by Lendita Zeqiraj
- Prison Romance (2022), directed by Denisa Minci
- Displaced (2021), directed by Samir Karahoda
Samir Karahoda, who is also a jury for this edition of REGARD had this to say about his curated program: "Like everything else, after the war, Kosovo's cinematography began its era from the beginning. For almost 20 years in a row, filming in Kosovo was considered a crime by the regime at that time, therefore, with the independence in 1999, many untold and collected stories began to be exposed to the public through film. In recent years, Kosovar cinematography has made a revolution in the world film industry, where the films produced especially by the new generation of filmmakers were selected and triumphed in the world's top festivals. Despite the modest conditions, the authors proved that they have the talent to tell our unique stories in a special form and style. The program itself contains the new generation or so-called New Wave Kosovar filmmakers, films that deal with extremely important topics for our society and at the same time is a true reflection of the truth in our country"
The films will screen on the 24 of March (Thursday, at 13:00). Tickets can be purchased through REGARD's webpage at festivalregard.com
We are ecstatic to witness the much deserved, international recognition of Kosovar filmmakers, and it continues to drive our work going forward.