Following the uncertainties reigning over the global crisis caused by COVID - 19 pandemic and the latest announcements of the Kosovo government regarding the health and safety situation, we decided to move this year's edition of the festival into a digital sphere. This year, the festival will roll out online from 7—25 August with specially curated film programs, panels, masterclasses, collaborative workshops and online music performances.
One would argue that the diverse media landscape and popularization of social media often expanded the social impact of an investigation, but often due to demand for immediacy, reporters ability to provide context was limited.
Our esteemed panelists will discuss the state of investigative journalism in the region, with specific focus on Kosovo and Serbia, where journalists often give up from a story when faced with obstacles and threats.
We have included a new competition program named 'TRUTH' which is dedicated to tireless investigative works of filmmakers, journalists and activists. We saw this as a good opportunity to connect a film from this program with a panel discussion on a state of investigative journalism in the region, with specific focus on Kosovo, where journalists often give up from a story when faced with obstacles and threats.
All panel discussions at our festival are connected to films from relevant programs, and in this case we will be initiating the discussion with reference to documentary film GREEN BLOOD: a result of a collaborative investigation into the practices of three mining companies operating in Tanzania, India and Guatemala. During eight months, forty journalists from fifteen countries have continued the work of local journalists that have been threatened, jailed or killed as the result of their investigation into the environmental and human cost of the mining industry.
This documentary is a behind-the-scenes account of this incredible collaboration.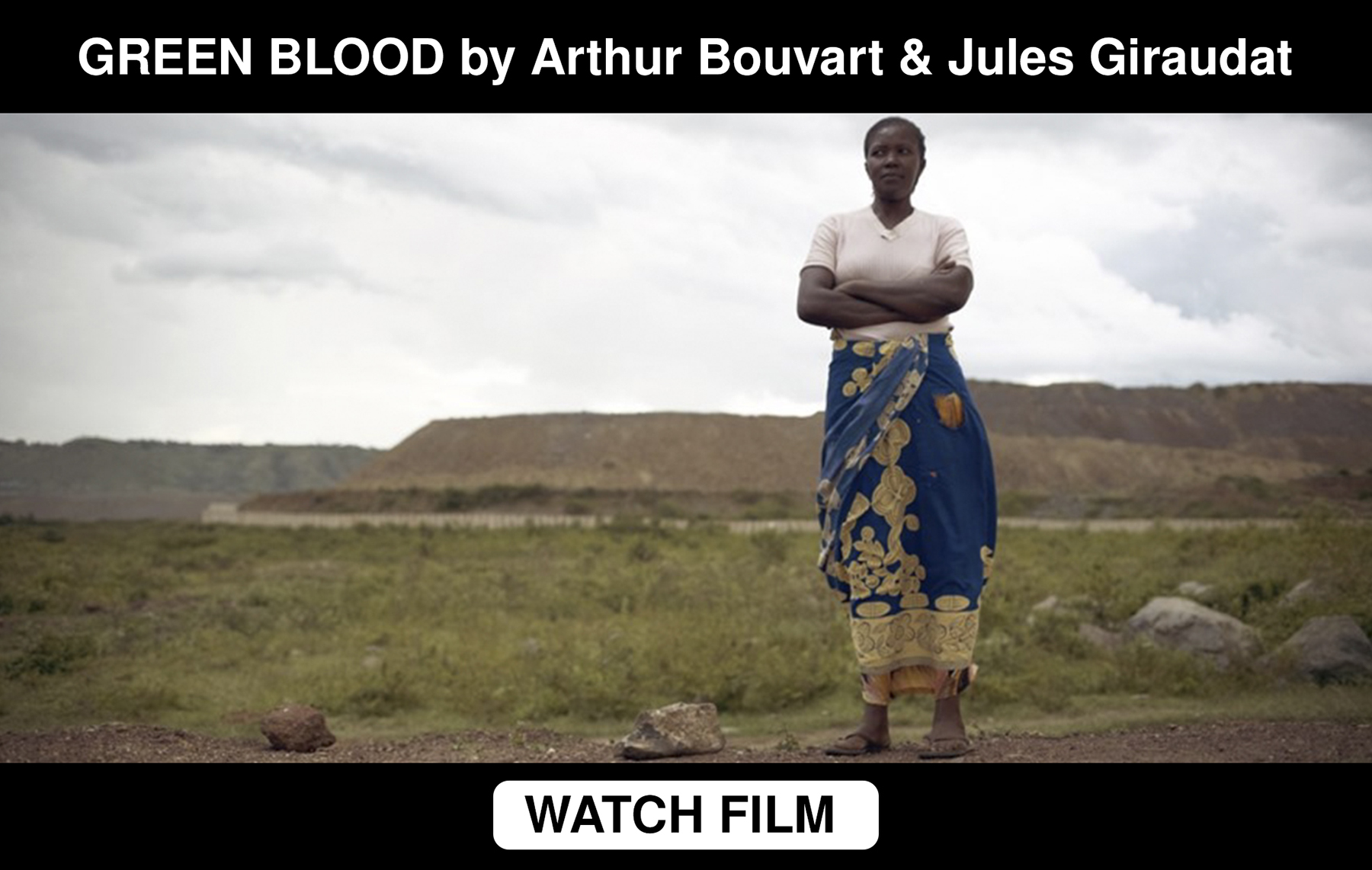 The Online Panel discussion is organized with the support of OSCE Mission in Kosovo. The Panel will be in English with simultaneous translation to Albanian and Serbian, streamed online on our Facebook page.
Speakers Bio's:
Marija Ristic is an award-winning investigative journalist and regional director of Balkan Investigative Reporting Network. She is in charge of editorial, training, operations and development aspects of the BIRN Network.She started her career as a journalist focusing on topics related to facing the past, reconciliation and transitional justice. In 2015, she produced the documentary 'The Unidentified' about war crimes in Kosovo. Ristic is a graduate of the Geneva Academy for International Humanitarian Law and Human Rights and is currently a fellow at the Free University in Berlin.
Saranda Ramaj, born in the village of Radavc in Peja, has been a journalist at the newspaper "Koha Ditore" since 2013. The areas she covered are related to health sector and most lately to the justice system. She conducts systematic complex investigations that reveals irregularities in these fields and that are mainly related to corruption and organized crime. Saranda is a multiple award winning investigative journalist for last seven years, including three awards for best Anti-Corruption articles, twice was a laureate of the annual "Rexhai Surroi" award and last year she won the first prize for investigative journalism funded by the European Union. Her research has had an impact on public life. Many investigations and indictments by the State Prosecution have been launched after her reports in the newspaper "Koha Ditore". With her articles she has also prevented the signing of illegal tenders worth millions, which were mainly for businesses connected to politics.
Saranda believes in and is committed to social justice.
Milan Antonijevic has been selected as the Executive Director of the Open Society Foundation Serbia, effective December 1, 2018. Milan is a lawyer by training and has devoted his career to date to human rights protection, rule of law and European Union integration.
Prior to joining OSF, since 2010 he was the Director of the Lawyers Committee for Human Rights (YUCOM), an organization founded in 1997, where he strongly promoted and advocated for the rule of law and upholding human rights in Serbia and the region of the Western Balkans. With 20 years' experience in the non-governmental sector and strong public presence in the Serbian media, Milan has worked extensively with civil society, political and social partners in Serbia on various projects including for the United Nations, the Council of Europe, the European Union, USAID, World Bank, and the Organization for Security and Cooperation in Europe (OSCE) among others. Milan is also a member of the Council for Monitoring the Implementation of the Recommendations of the United Nations Mechanism for Human Rights. He has coordinated the National Convention on the European Union for the Negotiation Chapter 23 (on Judiciary and Fundamental Rights) since 2014. Milan holds a law degree from the Belgrade Law School and was a Chevening scholar in the Department for Peace Studies at Bradford University in the UK in 2009/2010.
Lindita Tahiri teaches at the University of Prishtina, at the Departments of English Language and Journalism of the Faculty of Philology. Her courses cover Literary Criticism, Stylistics, Media Literacy, Mass Communication, Language and Culture, Language and Ideology and Translation. She has been Vice Rector of the University of Prishtina from 2012-2016. She has been a grantee of the British Council during her MA studies in 1985 at the University of East Anglia, a Fulbright student during the academic year 1986/87 at the University of Chicago, a research assistant at the University of San Diego during 1988 and 1989 and she received the Humphrey scholarship during the academic year 2010/11 at the University of Maryland in Washington D.C. From 2003-2010 she had the position of the Kosova National Coordinator for the European Commission Program for Higher Education "Tempus".
She has publications, including three books, in the field of literary criticism and discourse analysis, as well as two university textbooks in mass communication and media literacy. She has published two collections of poetry and has translated Conrad's "Heart of Darkness", as well as prose and poetry from English and American writers including Dickinson, Woolf, Hemingway, Golding.
Petrit Sarachini has 25 years of experience in media and communications, as a professional journalist, start up and responsible editor, producer, program manager, columnist (worked in Dnevnik, Lobi, Flaka, Life Radio, CivilMedia, start up editor in TV21, Pressonline etc). He is specialized in diversity and intercultural journalism, and civil journalism production. Has also 1 a half year of experience as editor of fact-checking service Proverkanafakti.mk, and was the start-up editor and of a popular educational website on hate speech, Bezomrazno.mk.
Has 15 years of experience in the non-profit sector, worked and cooperated as a media expert in different media oriented CSOs. Has worked as program manager for 10 years in the Macedonian Institute for Media (MIM), leading, managing and participating in South-East European, Western Balkans and national media projects, from idea and project writing to monitoring, evaluation and reporting. His work also included designing and producing comprehensive researches, multi-media content production, production of media literacy tools, and includes 10 years experience of training teachers of primary and high schools, training journalism trainings for beginners and mid-career professionals, delivering trainings and consultancy on communication and public relations to media and public relations professionals in public institutions and civil society. etc. Most of these projects were funded on international and national level by the EU, USAID, UN/UNESCO and other prominent international donor organizations. For 1 academic year, he was also engaged as assistant-professor in online journalism at the State University of Tetovo, Faculty of Law Journalism studies.
His working experience also includes PR/communication strategy development and implementation for various government and non-government organisations, and public relations and communication outreach for public administration and CSOs; e.g. worked with team of experts on developing communication strategies and outreach tools and channels for various EU-funded projects, also, with team of MIM experts, participated in developing communication strategies for Ministry of Foreign Affairs, Ministry of Interior, Ministry of Ecology, Secretariat of European Affairs, with CSOs: Macedonian Platform Against Poverty, MCEC, MKC-Bitola, SEGA- Prilep etc.
Also worked as a media expert for OSCE-ODIHR in four election observation missions in Macedonia. Specialized in media researches and media monitoring, developer of media monitoring methodologies, co-author and author of several regional and national media researches.