The generic and simplified narratives shield actors from their part of responsibility, thus offering space to all sides for an bias approach. Such narratives present the conflicts in black-and-white terms, attempting to diminish the systematic killings, displacements and forced disappearances.
Lack of accurate documenting, could lead to attempts for equal culpability and creates space for denial which is the first step in shielding powerful actors from responsibility to the violence.
Our diverse Panel of experts, scholars and filmmakers will draw from their personal experiences and works to discuss how we can use and transmit credible and verified information about the violence in the past? How can material evidence from the past transform bias narratives?
In our 'View From the World' special program we will be presenting "Irradiated" a latest documentary film of celebrated Cambodian filmmaker Rithy Panh, where he uses archive footage to depict the devastation of 20th century wars. Panh has densely packed his film with war footage, specifically, of bombings, torture and massacres, from start to finish, while using a three-screen projection technique to multiply the effects.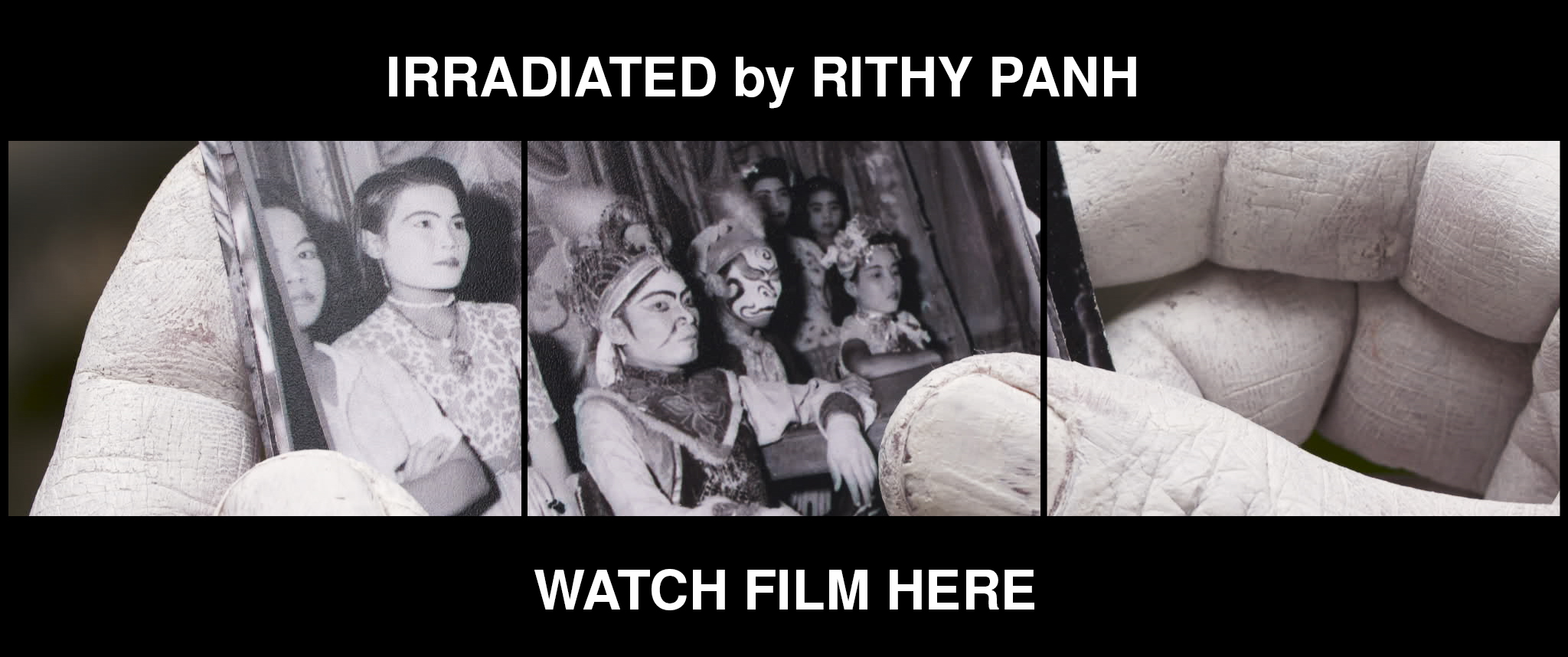 The Panel Discussion is a result of an extensive collaboration of DokuFest with Humanitarian Law Center Kosovo. In connection to this year's Panel Discussion we are pleased to present the untold stories from Kosovo War.
More than 20 years have passed since the war in Kosovo ended, more than 13,500 people have been killed and/or went missing. Thousands of stories of misfortune and terror took place all around Kosovo, many of them untold.
Humanitarian Law Center and Humanitarian Law Center Kosovo have been collecting fact-based materials and documenting killed and missing persons as result of the war.
The evidences such as statements of eyewitnesses and family members of victims, documentation from courts and other sources of information are transformed into short animated stories in honor of the victims and their families and with the purpose of remembering the past.
The animations brought to the public are focused on the day when specific killings and forced disappearance happened.
Through these stories we can get to know the families and what they experienced during the war in their hardest moments when their lives and the lives of their loved ones ended in a split second.
UNTOLD STORIES OF KOSOVO WAR IN ALBANIAN
UNTOLD STORIES OF KOSOVO WAR IN SERBIAN
Speakers BIO's
For more than a decade Sandra Orlovic worked for Humanitarian Law Centre (HLC) in Belgrade (Serbia), organization committed to documenting mass atrocities during Yugoslav wars and advocating for victims' rights. As a researcher and legal officer she interviewed dozens of survivors and witnesses of torture, extrajudicial killing, enforced disappearances, sexual violence, and forced displacements. Before taking the position of the Executive Director of the HLC (2012-16), she led research teams working on documenting human losses of Federal Republic of Yugoslavia (FRY) in conflicts in Croatia and Bosnia and Herzegovina, as well as casualties in Kosovo conflict and NATO campaign against FRY. She led an initiative for redressing war victims belonging to Muslim minority in Sandzak (Serbia) which resulted in adoption of the first official program of collective reparations in former Yugoslavia. In 2009, her work was recognized by German Schwarzkopf Foundation through award 'Young European of the Year'.
In 2018 she was a member of US State Department fact finding mission on atrocities committed against Rohingya in Myanmar. She worked as a consultant for International Organization for Migration (IOM) in Sri Lanka on issues related to collection and management of data on mass crimes and process of verification of victims' claims for reparations and as Officer for Transitional Justice at IOM HQ in Geneva (Switzerland). Currently she holds position of Reparations Officer in IOM mission to Iraq. She got her Bachelor Degree (2004) at Belgrade (Serbia) Faculty of Law and LLM Degree in International Human Rights (2016) on Northwestern University Pritzker School of Law in Chicago (USA).
Mirko Klarin was born in Trogir, Croatia. He graduated from the School of Law, Belgrade University. He has been a professional journalist since 1966 (reporter, foreign correspondent, editorialist, foreign policy editor and editor-in-chief) for leading daily and weekly newspapers in the former Yugoslavia. Before the latest Balkan wars, he covered foreign affairs, mainly in the Middle East conflict, and political developments in Europe and political violence (terrorism). He is the author of six books on the Middle East conflict, terrorism, totalitarianism and transitions of the European Left. From 1991 to 1998, he served as the European correspondent for the Belgrade independent daily Nasa Borba (ex Borba), based in Brussels. He covered all international conferences on the former Yugoslavia (The Hague, Brussels, London, Geneva), and other European forums dealing with the crisis and war. He also covered the work of the ICTY from its establishment in 1993.
Since 1998, Mr. Klarin has been the founder and Editor-in-Chief of SENSE-Tribunal, a specialized media service that regularly covers the work of the ICTY and other international courts based in The Hague. Since March 2000, SENSE has produced more than 720 regular weekly TV programs, providing overviews of the trials and developments at the Tribunal and the International Court of Justice. These are broadcast by all major networks and local TV channels in the Balkans region.
In addition to daily reports and weekly TV programs, SENSE has produced seven documentary films and four internet-based interactive narratives about war crimes trials and other related subjects: "Storm in The Hague;" "Srebenica: Genocide in Eight Acts;" "Targeting History and Memory;" and "ICTY: Kosovo Case, 1998-1999." SENSE has also established two Documentation Centers in Potocari and Prishtina (dealing respectively with the ICTY Srebenica and Kosovo investigations and trials). It intends to continue its important work from its Transitional Justice Center, opened in 2017 in Pula, Istria.
Alban Ukaj was born in 1980 in Pristina. He enrolled at the Academy of Dramatic Arts in Pristina, in the class of Professor Faruk Begolli. In 2001, he continued his studies at the Academy of Performing Arts in Sarajevo and graduated in 2006 in the class of Professor Aleksandar Jevđević. As an actor, he was engaged in plays produced by MESS, the National Theatre in Sarajevo, Chamber Theatre '55, Youth Theatre Sarajevo, The Royal Theatre Zetski Dom in Cetinje, as well as Bitef Theatre / Heartefact Fund. He was awarded several times for the best actor at theatre festivals in Bosnia and Herzegovina and region. Ukaj is a permanent member of the Sarajevo War Theatre (SARTR) ensemble. This year he marked his debut as a theatre director there with Edward Bond's HAVE I NONE.
Ukaj was equally engaged in film, such as FUSE by Pjer Žalica, NOTRE MUSIQUE by Jean-Luc Godard, MAGIC EYE by Kujtim Cashku, ALL FOR FREE by Antonio Nuić, NIGHTGUARDS by Namik Kabil, LA SILENCE DE LORNA by Jean-Pierre Dardenne and Luc Dardenne, awarded at the Cannes Film Festival, ON THE PATH by Jasmila Žbanić, J.A.C.E. by Menelaos Karamaghiolis, DREAMS by Rešad Kulenović, BOTA by Iris Elezi, awarded at the Karlovy Vary Film Festival, THE MARRIAGE by Blerta Zeqiri, awarded at Tallinn Black Nights Film Festival, and others. His first short feature film HORSE, for which he wrote the screenplay as well, has been awarded at several international festivals in Europe and America, including major awards.
Jasmin Mujanović is a political scientist (PhD, York University) specializing in the politics of post-authoritarian and post-conflict democratization. His first book Hunger and Fury: The Crisis of Democracy in the Balkans (Hurst Publishers & Oxford University Press, 2018) examines the persistence of authoritarian and illiberal forms of governance in the Western Balkans since the end of the Yugoslav Wars. His publications also include peer-reviewed articles in top-flight academic journals, chapters in numerous edited volumes, policy reports for Freedom House, the European Council on Foreign Relations, and the Friedrich Ebert Stiftung, as well as popular analyses in the New York Times, the Washington Post, Foreign Affairs, Foreign Policy, Al Jazeera, openDemocracy, and a host of other media. He has a prominent social media presence and has made appearances for international television and radio programs on Al Jazeera, CBC Radio, Huffington Post Live, Voice of America, as well as numerous Balkan media outlets. Originally from Sarajevo, he is currently a limited-term Assistant Professor of Political Science at Elon University, a policy consultant for the Friedrich Ebert Stiftung – Dialogue Southeast Europe office, and the co-host of Sarajevo Calling: A Podcast of Southeast European Affairs.
Mr. Andrej Nosov is a political activist and artist who uses a variety of media to engage the public in the politics of memory, transitional justice, and the rights of marginalized communities. In 2003, he founded the Youth Initiative for Human Rights (YIHR), a Belgrade-based NED grantee with offices throughout the former Yugoslavia. During his tenure at YIHR, Mr. Nosov coordinated more than 70 projects on youth mobility, war crimes, and justice. He subsequently established Heartefact Fund, a regional Balkan foundation utilizing philanthropy and the arts to raise awareness and engage the public on issues of human rights and reconciliation. Named one of NED's "30 Under 30" in 2013, he currently serves as creative director of the Heartefact Fund, with a focus on developing international projects and outreach. He is also active in theater, producing his own plays and directing dramatic works concerned with marginalized communities and post-conflict reconciliation.